Organic by Choice
The stuff you need to know!
"In each pair of socks 80% of the composition are MADE FROM ORGANIC COTTON; A SUSTAINABLE FIBRE THAT'S GOOD FOR THE PLANET AND THE PEOPLE WHO PRODUCE IT".
The yarn is dyed without the use of carcinogenic or allergenic colorants.
Non-organic cotton growers use large quantities of synthetic fertilizers, herbicides and pesticides, which present huge risks to workers and damage to the local environment. Conventional cotton is often grown with GMO seeds that are owned by large multinational agribusinesses. Denim Star® is supporting cotton growers to cultivate cotton without the use of GMO seeds, pesticides, chemical fertilizers or defoliants. I support to protect the land and take care of the cotton producers and textile workers by using GOTS certified organic cotton.
A fact that you might like to know!
Water Consumption: Cotton is one of the world's thirstiest crops. The metrics are sometimes disputed, but it's estimated that 20,000 liters of water are required to produce just 1kg of cotton fabric - that's enough to make just one T-shirt and a pair of jeans. The positive is organic cotton uses up to 88% less water compared to conventional cotton.
Keep scrolling for Denim Star® transparency for working towards its sustainable goals in line with SDG's (Sustainable Development Goals) that were adopted by all United Nation Members back in 2015!
Indigo Wash Sock Range
As Founder Emma Lucy Brown part of my mission for the Denim Star® brand structure is to lower my manufacturing waste.
This is achieved designing and making collections in small quantities with only one set of components. On offer to buy is my Indigo sock range to style with your indigo and mid-wash coloured denims.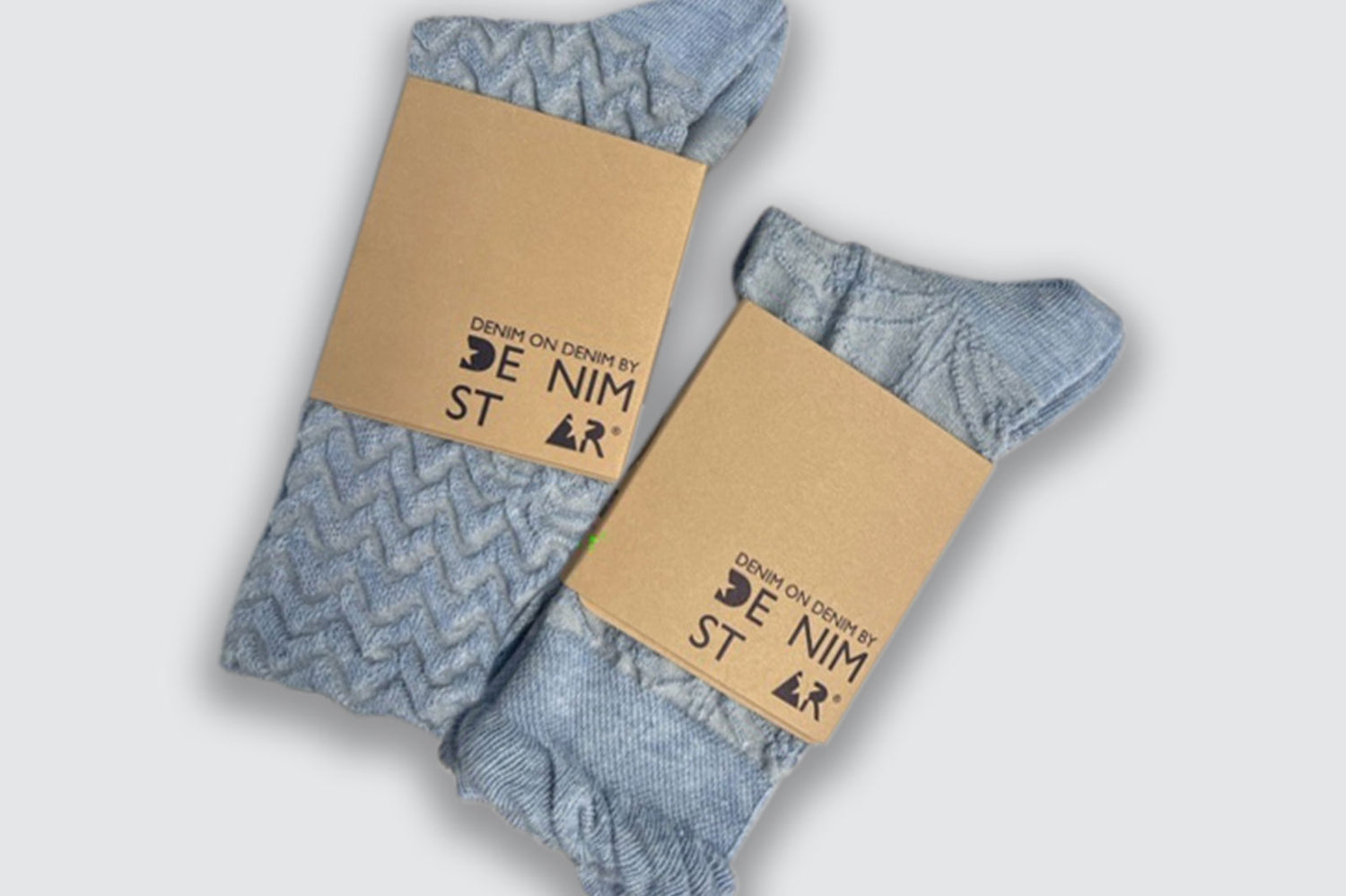 Stone Wash Sock Range
Made with one set of components.
On offer to buy is my stone wash sock range to style with your mid-wash, stone wash and white coloured denims.
Socks of Longevity!
Want to know more?

All decisions made from the drawing board are evaluated in terms of ethics and duty to sustainability.

In each pair of socks 80% of the composition are made with GOTS certified organic cotton, as much as it would be wonderful for them to be 100% Cotton it is imperative to have longevity.

By adding nylon is more of a sustainable option to have longer lasting socks with a reinforced toe and heel with elastane to help hold the socks up. Denim Star® future goal. When making the socks as soon as I am able to increase my minimum order quantity I will replace the nylon with Econyl Regenerated Nylon made from waste sources of old carpets destined for landfill, fishing nets from aquaculture/fish industry, take back projects and pre-consumer waste.
Carefully crafted Denim coloured Socks!

Comfort is key. All our styles have honeycomb sock tops; fitting legs, without pinching your skin. Finished with seamless toes to prevent any friction, and reinforced heel and toe with nylon to prolong the life of the socks, with branded knitted soles.
Cotton and Factory Origin
Want to know more?

ORIGIN:

Denim Star® Organic Cotton is grown in Egypt, spun and dyed in Italy. Knitted by an Italian family run business established in 1963. With a factory surrounded by the rolling hills of Mount Maddalena, vine yards and olive tree groves in Italy. When it comes to Denim Star® socks romancing your favourite denims, can it get anymore romantic than this?

With both my yarn supplier and factory being in Italy keeps my production as close to British soil as possible. By designing collections with only one set of components means my different points of sale is through the different knitted patterns. It is only with these sock knitting machines in Italy that these intricate knitted patterns can be achieved.